Where People and Food Come Together
Nine Mile is a Caribbean-inspired, vegetarian-friendly restaurant and bar with three locations in Asheville, North Carolina. A local and tourist favorite since we opened our doors in 2008, we love serving neighbors from near and far with our laid-back vibes and fresh flavors.
View Menu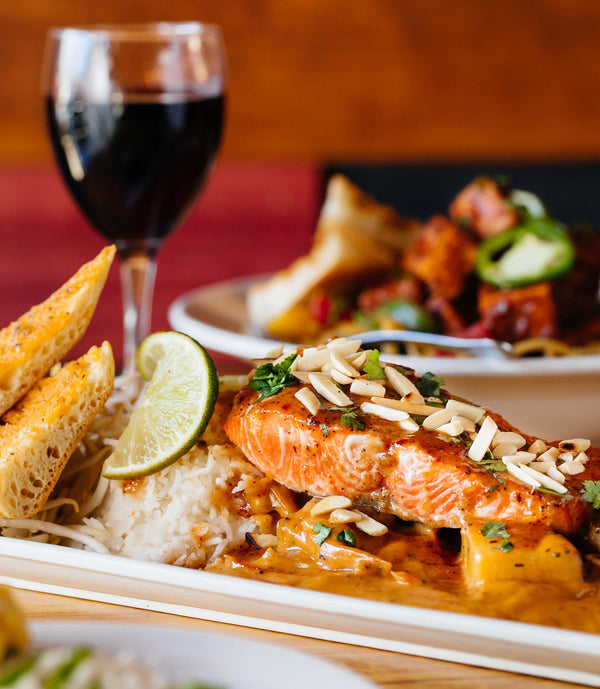 How to get here
The original Nine Mile location is in Asheville's Historic Montford neighborhood at 233 Montford Ave. Nine Mile has a second location in West Asheville at 751 Haywood Rd., and a third location in South Asheville on the Biltmore Park Town Square. All locations are open daily from 4pm to 9pm.
New! Nine Mile Hot Sauces
Shirts & Tanks
Nine Mile apparel is now for sale at our Montford location. We have numerous designs and styles to choose from, including men's, women's, and unisex, tanks and tees.
I loved that pretty much the entire menu could be made vegan, vegetarian or gluten free. As the only vegetarian in the group, I really appreciate a restaurant that can please everyone.
155carolined
I've never eaten food so s-l-o-o-o-o-w-l-y!!! I just didn't want it to end.
j4444
the ABSOLUTE best and HOTTEST dish I have ever had in a restarant, EVER! I loved it.
ovolacto
HAD DIED AND GONE TO HEAVEN, PRAISE JAH.
Ashley C.
During our Asheville trip my wife and I ate here twice because the food was just that good.
lennajeigh
I would eat here daily if I could! It's a MUST-GO-TO spot if you're visiting Asheville.
Jacquelyn
Went with my family and we all shared our dishes with each other- they were absolutely delicious, every single bite. This place is magical. From its down to earth employees to its reggae soul music and AMAZING smells, this place is a must go to!! Just go now. Stop overthinking it. Go.
Hannah
My wife called hers, "maybe the best meal I've ever eaten." Its comfort food. It's island themed. The flavors are intense in flavor but not too spicy. Can't recommend it enough.
Dru
Montford
233 Montford Ave
Asheville, NC 28801
828-505-3121
info@ninemileasheville.com
Monday - Sunday, 4pm to 9pm
* Dinner service only.
* We do NOT take reservations.
* Covered outdoor seating is
very limited (4 tables, 12 seats).
West
751 Haywood Rd
Asheville, NC 28806
828-575-9903
info@ninemileasheville.com
Monday - Sunday, 4pm to 9pm
* Dinner service only.
* We do NOT take reservations.
* No outdoor seating.
South
33 Town Square Blvd
Asheville, NC 28803
828-676-1807
info@ninemileasheville.com
Monday - Sunday, 4pm to 9pm
* Dinner service only.
* We do NOT take reservations.
* We have a covered patio!
(4 tables, 16 seats plus 3 bar high top seats)