DRESSED TO THE NINES
We're so pleased to announce our signature salad dressings are now available for purchase! You may already know these dressings from the Empress Menen, The Groundation, and Back to Eden salads: the ever-popular His Majesty's (Sesame Garlic Tahini) and Hollapeño Lime (Jalapeño Lime Cilantro).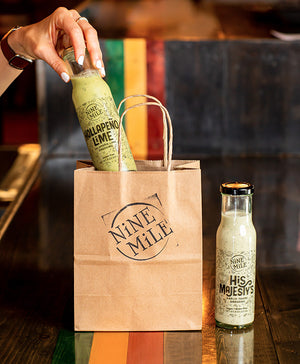 Available Exclusively in store
Our signature salad dressings are now available for purchase at all three of our Asheville restaurants. Not dining in? Speak to the host to purchase.

*Dressings must remain refrigerated.
enter to win!
Enter to win our new salad dressings, plus your choice of a shirt or tank top.
Nothing short of amazing! Other reviewers don't lie that the salad dressing is amazing. The jalapeño lime is flavorful but spicy. The tahini may be the best tahini dressing I've ever had.
Noah P. (Albuquerque, NM)
The salad dressing with tahini is off-the-charts delicious.
Denise
Portions are generous and all entrees come with a salad - their dressings are all UNREAL (tahini and jalapeño were our faves).
MBlair1 (Arlington, VA)
Don't skip the tahini salad dressing or the coconut cake!
alilodd80
Best ever salad dressings.
Cindy I
Our meals were phenomenal start to finish. The jalapeño salad dressing was so springy and light.
Stephanie G (Madison, WI)
Oh my GAWD. This was one of the best vegan meals I've ever eaten out... You know a place is good when you can rave about their salad dressing, we tried them both and my goodness they were so delicious.
Kristen J. (Silverdale, WA)
The tahini dressing is one of the best salad dressings I have ever had and I often buy a container to take home with me.
Cindy C. (Raleigh, NC)
I love this place. I have been going here since I moved to Asheville 11 years ago. The His Majesty's salad dressing is not to be missed.
Sabrina B. (Asheville, NC)
I dream of their garlic tahini salad dressing. Highly recommend.
Michelle E. (Woodfin, NC)
Salad dressings were absolutely delicious.
Kathy B. (Norwich, CT)
His majesty's
Fit for a King, approved by the Queen. This velvety dressing will lively up your tastebuds with flavors savored by royalty. This dressing blends garlic and tahini to a creamy perfection. This sauce can be used as a dressing on salads, a healthy dip, or folded into stir fries. We love it on just about everything.
Ingredients:
Sunflower Oil, Tahini, Water, Green Onions, Garlic, Apple Cider Vinegar, Lemon Juice, Lime Juice, Tamari, Salt, Pepper
Keep Refrigerated
Hollapeño Lime
Sweet, spicy, and tart sensations will arouse your taste buds. This dressing is "too hot for the hot tub." Honey, jalapeños, and lime bring forth a balance of sweet flavor and spicy heat. This dressing can be used as a marinade, dressing, or taco topper.
Ingredients:
Lime Juice, Honey, Cilantro, Jalapenos, Garlic, White Vinegar, Apple Cider Vinegar, Lime, Tapioca Starch, Salt
Keep Refrigerated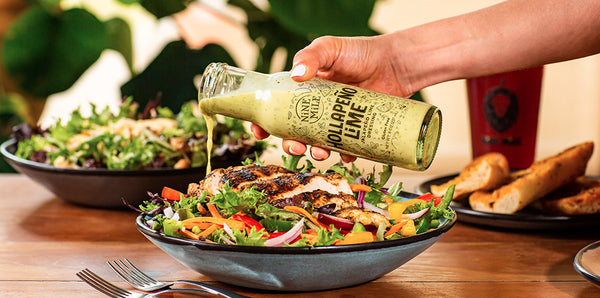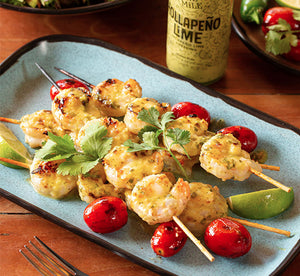 As a Marinade
in a stir fry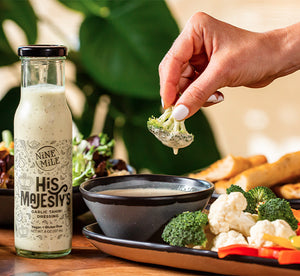 As a dip