we won! again!
And would love to give you an opportunity to win too. To extend our thanks we're giving away a prize pack that includes: a spicy tote bag, a colorful Tee of your choice, one full size hot sauce, one full size salad dressing, a Nine Mile Dad Hat, and a $50 gift card. Simply scroll down and enter your email address for a chance to win.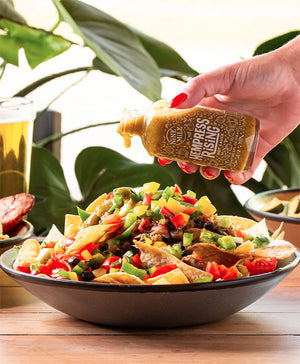 Asheville's Favorite Restaurant
Thank you for voting us your favorite restaurant for the NINTH year in a row! From our original Montford location to Nine Mile West and Nine Mile South, we're proud to bring you fresh, delicious dishes every time we open our doors.
enter to win!
Enter for a chance to win a $50 Nine Mile Gift Card, (1) hot sauce, (1) salad dressing, (1) tote bag, plus your choice of a shirt and hat.
Do you ever go to a restaurant and see a long wait and think, "this is too long?" If so, I urge you to think why the line is so long. It's probably because the place is FANTASTIC!
Jen K
Wow. This place was our only dinner stop in Asheville and we couldn't be more happy with our choice. I'm a vegetarian and my boyfriend is not. I can't handle spicy food, my boyfriend loves it. We usually like very different restaurants. Nine Mile hit every single point for both of us.
Alyson J
Don't even think about it. Just go. Favorite dinner spot in all of Asheville. Great vibes. Excellent service. Amazing food. AMAZING. I go every time i am in Asheville and take anyone who has never been before to this spot, and we always have an excellent meal. Obviously prepared fresh and quickly.
Kristen A
I have a good vocabulary, but I don't have enough words to say how good the Nolan was at Nine Mile. It's a combination of vegetables, noodles, shrimp, and scallops -that were cooked to perfection, which is hard to do- bathed in a sriracha coconut milk. Oh. My. God.
Keith B
I believe that this place has given us the finest dining experience we have ever experienced in five decades of dining. Service, food, and almost too inexpensive so I gave a 35% tip. A must experience stop for anyone visiting the Asheville, NC area.
Ted P
I've never eaten food so s-l-o-o-o-o-w-l-y!!! I just didn't want it to end.
j4444
BEST REPRESENTS THE SPIRIT OF ASHEVILLE
This is Nine Mile's latest Hall of Fame award from the Best of WNC, which means we've won four years in a row! We're proud to embody the spirit of Asheville – our beloved mountain city that's beautiful, fun-loving, and more than a little weird.